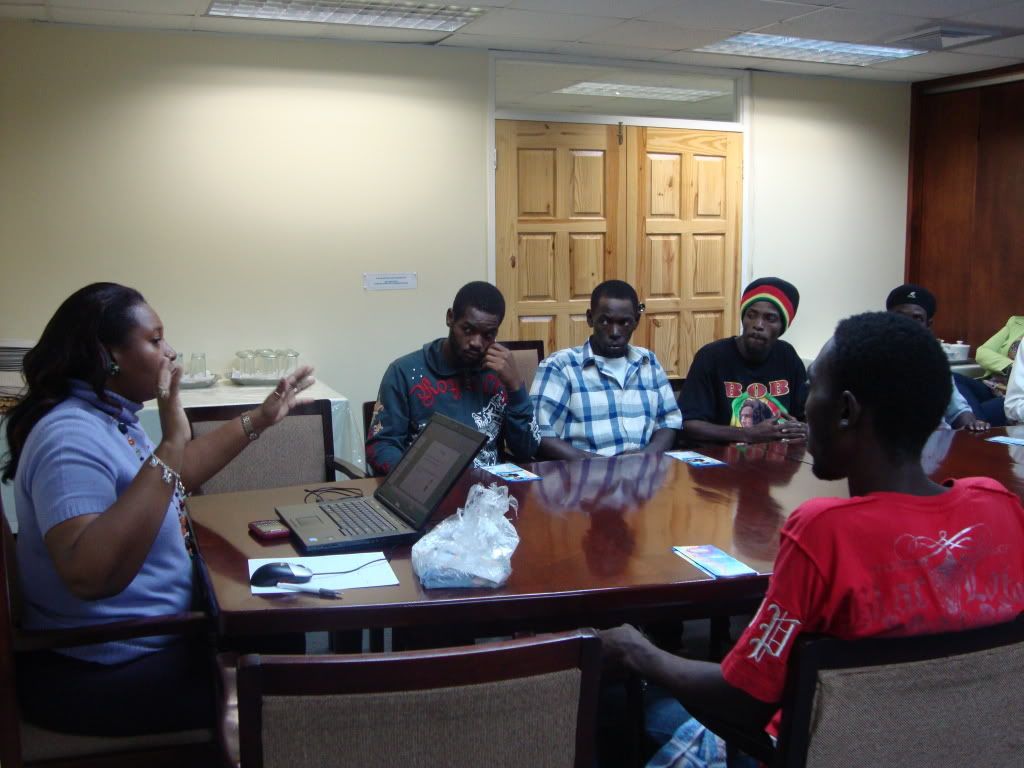 KINGSTON –October 4, 2010 – In light of the extraordinary financial challenges facing countries worldwide, corporate social responsibility (CSR) has become a critical component of business transactions, fiscal budgets and company mission statements.  CSR is defined as 'a management principle that suggests an organization should consider the social, ethical and environmental effects of its activities on its staff and adjacent neighbourhoods.'  As a result, organizations are being asked, more than ever, to invest greater shares of time, resources and funding into areas being directly or indirectly affected by their operations. In addition to improving investor relations, boosting employee morale and enhancing brand equity, CSR assists in driving both community development and economic recovery. Churches Co-operative Credit Union (CCCU) believes in corporate social responsibility and has displayed their commitment to this philosophy through many initiatives.
'Through our commitment to providing leadership in both corporate and community affairs, we have demonstrated our interest in the financial and social needs of our members and the wider society,' said Mr. Basil Naar, Churches CEO. 'We have a deep commitment to the principles of corporate social responsibility, and have demonstrated support for inner city communities and young professionals through numerous programmes and grants,' he continued.
CCCU utilizes its Entrepreneurs Awards Programme, which was introduced in 2006, to encourage tertiary level students to branch out and independently pursue their business dreams by offering a grant valued at $300,000.00.   Awardees not only receive a financial contribution from Churches but are also assigned to mentors, who are CCCU staff members with previous experience in business management. The organization also offers business support services and internship opportunities to residents of low-income neighbourhoods.
Additionally, Churches assists aspiring and budding entrepreneurs through its Micro and Small Business Centres based in Kingston, Montego Bay, Mandeville and May Pen.  The unit provides crucial financial advice and  guidance to persons interested in establishing a new company or expanding an existing business. CCCU offers both secured and unsecured loans to individuals across a wide range of industries including manufacturing and agriculture. All micro loans include Personal Accident Insurance and a savings component, which encourages participants to save as they repay the loan.
Recognizing the reluctance of private sector organizations to employ residents of inner city communities, CCCU encourages young business owners, regardless of their background, to strive for success and positively contribute to nation building. As a result, the organization opened the Trench Town Advisory Centre in 2007 which focuses on offering advice to members of the community who are interested in improving themselves through self help and small business ventures. CCCU is looking to expand the division into other areas of depressed neighbourhoods.
In 2009, as part of its ongoing drive to promote entrepreneurship, Churches partnered with the Corporate Finance Broker Unit of the then Jamaica Trade & Invest (JTI), now Jampro, to host a series of workshops, which sought to advocate and support business concepts, policies and programmes that advance human development goals.  Entitled 'Starting & Expanding a Small Business', the sessions primarily covered registering and financing a business, fiscal products geared toward starting and expanding a business, and management basics.
This year, CCCU partnered with the Citizen Security and Justice Programme (CSJP) to continue the initiative by specifically targeting inner city entrepreneurs. 2010's first workshop, '$mart Actions = $mart Results' took place on Wednesday, August 11th at the Cassia Park Community Centre.  Twenty eight participants enthusiastically took part in the seminar and supplied overwhelmingly positive feedback at the end of the event.
Since 2008, CCCU has collaborated with the CSJP on its work experience programme. Of the 13 persons who initially took part in the scheme, 7 have been retained within the organization on contract.  The success of this partnership has led to discussions regarding other joint ventures in the future.
In accordance with its vested interest in contributing to the reduction of crime within the Jamaican society, CCCU has once again joined forces with CSJP as well as Communications & Business Solutions Ltd. (CBS) on a ground-breaking public/ private sector partnership, which targets unattached, young men who lack skills, jobs and employment prospects. This initiative, dubbed 'Real Man Things Pon Di Corner' seeks to curb the incidence of violence in Jamaica, contribute to nationwide efforts to reduce crime, mobilize communities vulnerable to criminal and gang-related activity and promote services, such as CCCU's financial solutions, as a viable alternative to counterproductive and deviant behaviour. The official signing of the memorandum of understanding for the Real Man Things 'Pon Di Corner' project took place on Tuesday, August 10th at the Fletcher's Land Community Centre.
'We sincerely believe that public/private sector partnerships, like this alliance, will be needed to comprehensively tackle Jamaica's crime problem,' said Mr. Naar. 'A multi-faceted approach is necessary if we are to make any headway on this multi-layered, multi-dimensional issue. It impacts all of us and affects our lifestyle and our life choices,' he concluded.
During his testimonial at the MOU signing event, Mr. Miller, a newly minted 'change agent', stated that the Real Man Things 'Pon Di Corner' series would serve as a powerful tool to deter young men from adopting a criminal lifestyle and leading a 'dark' life.
-END-
ABOUT CHURCHES CO-OPERATIVE CREDIT UNION (CCCU)
Established in 1971, Churches Co-Operative Credit Union (CCCU) has been a member of the Jamaica Co-Operative Credit Union League since 1977. As the island's second largest credit union in terms of membership, the organization offers a comprehensive range of financial services including savings and investment accounts, loans, insurance packages and a pension fund.   For more information about Churches Co-operative Credit Union, please visit www.churchescreditunion.com or email info@churchescreditunion.com.
ABOUT THE CITIZEN SECURITY AND JUSTICE PROGRAMME (CSJP)
Founded by the Ministry of National Security, the Citizen Security and Justice Programme (CSJP) primarily aims to prevent and reduce crime and violence, as well as strengthen crime management techniques used in depressed neighbourhoods. Operating in 28 volatile areas in Kingston, St. Andrew, St. James and Westmoreland, the initiative seeks to adopt community mobilization and governance, offer violence prevention services such as conflict resolution, develop multipurpose centres, establish Community Justice Tribunals, and utilize social marketing and public education campaigns to inform residents of its core projects.   For more information about CSJP and its programmes, please visit www.csjp.gov.jm or call 754-5524
906-4714/ 906 9644 in Kingston or 979-0197 in Montego Bay.
ABOUT COMMUNICATIONS & BUSINESS SOLUTIONS LTD. (CBS)
Communications & Business Solutions Ltd. (CBS) is a New-Kingston based marketing firm offering a gamut of services including public relations, advertising, event management and graphic design. The company's clientele base includes organizations operating across an eclectic range of industries including banking, media, telecommunications, interior design and agriculture.  For more information about CBS, please visit www.cbsmarketingja.com or call 906-2266/ 906-9248.
ABOUT REAL MAN THINGS
Hosted by motivational speaker and philanthropist, Kevin Wallen , 'Real Man Things' is a weekly, hour long programme that focuses on males issues and challenges in today's society. The show, which airs on Sundays at 9 p.m. on Power 106 FM, is the brainchild of Communications & Business Solutions Ltd. (CBS) and is sponsored by Churches Co-Operative Credit Union (CCCU).
For more information about 'Real Man Things', please call 906-2266/906-9248.
###
Michelle Cunningham,
Marketing Executive, Communication & Business Solutions Ltd. (CBS)
906-2266/ 906-9248, michelleroxannecunningham@gmail.com