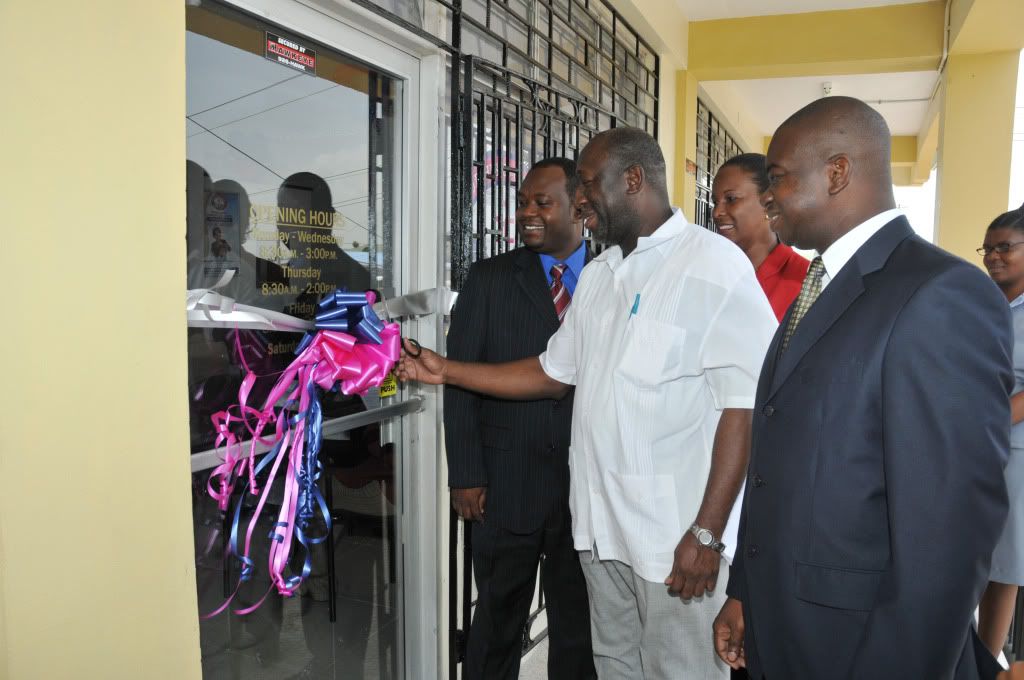 KINGSTON – May 31, 2010 – Churches Co-operative Credit Union (CCCU) Ltd. has expanded its service offerings to members residing in the Old Harbour area by moving to a larger facility in the conveniently located East Side Plaza. CCCU organised an official commemoration of the relocation on Friday, April 30th by hosting a 'Members Appreciation Day', which included a ribbon cutting ceremony, remarks by the organization's senior officers, and a networking segment with its Old Harbour members. As part of its continued commitment to excellence in member care, a pre-event which adopted a community meeting format was held and this served as a platform to educate members about the new location, products and services. Additionally, the opening activities sought to strengthen relationship between CCCU and the residents by incorporating an informal meet and greet, and facilitated a question and answer period.
'We felt it was important to relocate in order to better serve our members by providing more space and in turn increased privacy so they can comfortably conduct business with us when conveying intimate financial information,' said Judith Hyllam, Officer in Charge of CCCU's Old Harbour Sub-Branch. 'The move also allows us to expand, including additional services', she concluded. CCCU also decided to utilize office space in the East Side Plaza due to its proximity to the town's centre of activities, adequate parking and accessibility to a near-by bus park.
Established in 2006, the sub-branch was previously housed at the Portmore Community College at 41 East Street and offered a range of services including savings and investment products, loans and insurance plans. The sub-branch operates from 8:30 a.m. – 3:00 p.m. Monday through Wednesday, 8:30 a.m. – 2:00 p.m. on Tuesdays and 8:30 a.m. – 4:00 p.m. on Fridays.
ABOUT CHURCHES CO-OPERATIVE CREDIT UNION
In order to offset the additional services now offered at the Old Harbour site, the staff compliment has been increased in the short term thereby creating employment opportunities in the area.
Persons interested in obtaining more information about CCCU's Old Harbour sub-branch may call 745-3645-6/929-5142 or contact Judith Hyllam, Officer in Charge at Judith.Hyllam@churchescreditunion.com.
Established in 1971, Churches Co-operative Credit Union (CCCU) has been a member of the Jamaica Co-operative Credit Union League since 1977. As one of the island's largest credit unions the organization provides its membership with a comprehensive range of financial services including savings and investment accounts, loans, insurance packages and a pension fund.
For more information about Churches Co-operative Credit Union, please visit www.churchescreditunion.com or email info@churchescreditunion.com.
###
Michelle Cunningham,
Marketing Executive, Communication & Business Solutions Ltd. (CBS)
906-2266/ 906-9248, michelleroxannecunningham@gmail.com